'Fake Sheikh': Herbie Hide's lawyer hopeful over CPS review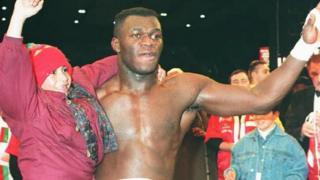 The lawyer for boxer Herbie Hide said he was hopeful his client could clear his name following a drugs sting by a tabloid journalist.
Hide, 43, from Norfolk, served nine months of an initial 22-month sentence after Mazher Mahmood of The Sun filmed him setting up a drug deal.
The boxer's case is one of 25 involving Mr Mahmood being reviewed by the Crown Prosecution Service (CPS).
Mahtab Aziz said he was "very happy" for Hide, who had been "targeted".
The decision follows the collapse of the trial of singer Tulisa Contostavlos after the judge said he thought the undercover reporter, dubbed the "Fake Sheikh", lied in court to conceal the fact he had manipulated evidence.
Subsequently, in a BBC Panorama investigation, one of Mr Mahmood's former colleagues at the News of the World, the News UK title which has been replaced by The Sun on Sunday, claimed they created elaborate stings to target celebrities unfairly.
'Very nice person'
Former attorney general Lord Goldsmith told the programme Mr Mahmood's record needed to be re-examined.
Mr Mahmood has previously said he used legitimate investigatory methods and any criticism of him usually came from those he had exposed or people he had worked with who had an "axe to grind".
Mr Aziz said he had been told he was being sent an information pack by the CPS.
"I'm very happy for Herbie - he's a very nice person and is misunderstood," he said.
"They targeted Herbie and hopefully he will now get the chance to clear his name. His sentence was very unfair".
Hide, a world heavyweight champion in the 1990s, admitted conspiracy to supply cocaine and was originally jailed in November 2013.
His sentence was reduced to 18 months before he was released on a tag having served half his sentence.
A spokesman for The Sun said: "We are aware of the CPS statement. Mr Mahmood remains suspended and we are continuing our internal investigation into the matter."