Ashcroft Centre anti-closure petition signed by thousands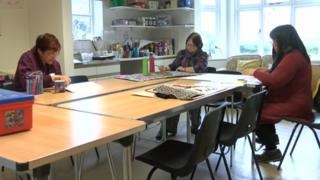 More than 2,300 people have signed a petition calling for a women's mental health unit to be saved from closure.
The Ashcroft Centre in Wicklewood, near Wymondham, Norfolk, could shut in March as the county council is not renewing its contract for beds.
Harold Bodmer, from the council, said it would meet representatives from Julian Support, which runs the centre, later this week to "continue the discussion".
Pip Coker, of Julian Support, said she hoped the centre could be saved.
The online petition was launched two days ago after the county council said it would not renew its block contract for seven beds at the Ashcroft Centre, meaning the whole 14-bed centre could have to close.
Beds are also kept for Norfolk and Suffolk NHS Foundation Trust patients.
The county council would not accept a weekly rate of £650 per person and said it would only pay £593.
'Value for money'
Ashcroft Centre trustees said staff numbers would have to be cut to unsafe levels.
Mr Bodmer, head of adult social services at Norfolk County Council, said: "We would be very sorry to see Ashcroft close... so we are meeting with Julian Support later this week.
"We want to continue the discussion with them, but clearly people would expect us as a council to look for value for money for the funding we provide for what is a very valuable service."
The unit, which is the only one of its kind in the county, provides both short and long-term rehabilitation and respite care.
Women discharged from hospitals but who are unable to live independently are among those who use the unit.
Ms Coker, chief executive of Julian Support, said: "I understand Mr Bodmer hopes to resolve the situation.
"I'm hopeful that we might be able to consider costs to the wider health system in Norfolk and come to an agreement.
"We don't think there are comparable services in Norfolk.
"It is unique and you may have to pay a premium but compared to hospital costs it is good value."