Ched Evans rape case: BBC Norfolk presenter investigated by Ofcom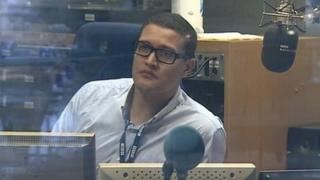 On-air comments about rape made by a BBC Radio Norfolk presenter over the Ched Evans case are to be investigated.
Nick Conrad, who appeared to attribute some blame to rape victims, is facing an Ofcom inquiry to decide if he breached the broadcasting code.
Ex-Sheffield United player Evans had just been released from jail when Conrad's phone-in debate took place.
Conrad said it was "very difficult for many men to say no when they are whipped up into a bit of a storm".
"If you jump into bed naked with a man, if you give him all the signals and then he acts upon them, then you are partially responsible," he continued.
"If you don't wish to give out the wrong signals it's best probably to keep your knickers on and not get into bed with him.
"It's the old adage about if you yank a dog's tail then don't be surprised when it bites you."
'Ill-judged'
Conrad's remarks prompted more than 80 complaints to the BBC, as well as much press coverage, in the few days before the host apologised to the audience.
He admitted his comments were "ill-judged" and said sorry to "anybody who was offended".
"I made it clear on several occasions [during the on-air debate] that rape is an abhorrent and inexcusable crime and that women and victims were in no way to blame," he insisted.
About the investigation, Ofcom said it was set up to establish whether the presenter breached the watchdog's Broadcasting Code.
"Ofcom is currently investigating whether the use of derogatory language against women in this live debate about convicted rapist Ched Evans met generally accepted standards," said a spokesman.