Norfolk Police car flips on side in Norwich car crash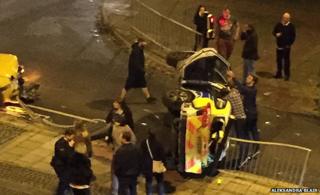 A police car responding to a 999 call flipped on its side after it collided with another car in Norwich.
The Ford Focus police car and the yellow Fiat 500 crashed at the junction of St Benedicts Street and Grapes Hill about 21:30 GMT on Friday.
Eyewitness Aleksandra Blair said several people helped the police officer get out of the patrol car.
Both female drivers sustained minor injuries and were taken to the Norfolk and Norwich University Hospital.
Ms Blair, who lives in the flats overlooking the junction, said she was having dinner when there was bang almost "like a gunshot".
"There was smoke coming out of the yellow car... and the lady who was driving was on the floor," she said.
"The policewoman was trapped inside... there were people tying to climb on top of the the police car to get her out. "
No-one else was hurt or involved in the collision, a Norfolk police spokeswoman said.
Police are appealing for witnesses.