Norfolk's sacked engineering staff 'gold dust' says business secretary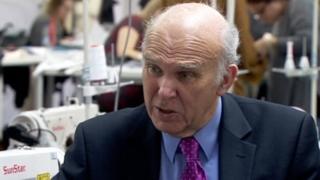 Administrators who are shutting a motor racing engineering unit with the loss of 68 jobs in Norfolk believe a takeover is imminent.
Caterham Engineering staff at Hingham have been told the division is to shut.
"I am honestly talking to somebody who would like to take this over within the next month," the firm's administrator Finbarr O'Connell has said.
Business Secretary Vince Cable, visiting the county, said the staff's engineering skills were "gold dust".
Staff at the firm's technology and innovation centre in Norfolk would find work even if the take-over failed to happen, he said.
'Extraordinary skills'
Mr Cable was speaking during a visit to Norwich, where he was shown around the University of the Arts.
Caterham cars announced it was closing its Norfolk technology and innovation centre earlier this week, at a time when several hundred jobs are also under threat at sports car builder Lotus, based at Hethel.
Mr Cable said: "I regret that people have lost their jobs and businesses are going down.
"But the British car industry is doing brilliantly well and that includes Formula 1.
"As far as the workers are concerned, they are gold dust.
"They have got extraordinary specialised engineering skills and will be lapped up by employers."