Lisa Christensen: Norfolk Community Health and Care NHS Trust chief quits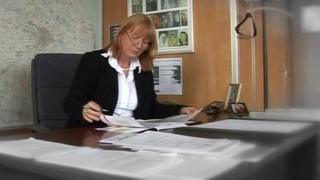 The former head of Norfolk County Council's children's services department has resigned from her new role with the Norfolk Community Health and Care NHS Trust after two weeks.
Lisa Christensen quit her job as the trust's non-executive director saying "continuing media speculation" about her "value" would be a distraction.
She said the move was "disappointing".
Ms Christensen left Norfolk County Council last June after her department was branded inadequate by Ofsted.
"I was truly looking forward to working with some excellent people at the trust and felt that my background and experience in the NHS, voluntary sector and social services would have brought benefits to the work of the trust's board," she said.
Ms Christensen was appointed into a non-operational role as a non-executive member of the board.
"I regret the fact that it appears that there will be continuing media speculation about the value of my contribution," she said.
"This is disappointing but I do not want my appointment to cause a distraction for NCH&C and its important work."
Ken Applegate, chair of the trust, said it was accepting her resignation.
He said: "Lisa is a highly professional individual and we greatly respect her decision and appreciate her consideration of our trust."