Norwich skateboarders' views called 'tosh' in email blunder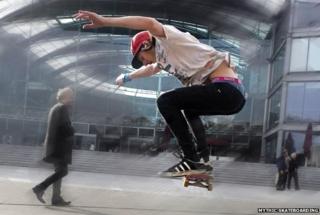 A councillor has apologised after sending an email in error to a group of skateboarders, in which he described their views as "tosh".
The email was about a Norwich City Council plan to use a by-law to ban skateboarding from the city centre.
City councillor Mike Sands intended to send the email to the council's leader.
He was responding to a letter in which the skateboarders said "public opinion" was "clearly opposed to the ban" and councillors were "ridiculing us".
Council officers have recommended a by-law be introduced to prevent "nuisance to members of the public using the highways" and "damage to the historic buildings", including the war memorial.
The Long Live Southbank skateboarding group wrote to the council saying claims skateboarders had damaged the war memorial were "unsubstantiated" and councillors were "condescending... ridiculing and patronising us".
Mr Sands intended to send his email response to Brenda Arthur, the city council leader, but instead sent it to the skateboarders.
They have now posted it on their Facebook site.
In it he said: "Read the letter... What tosh! As advised no response."
He added he had recently been in "a very near collision outside city hall" and that his offer to meet one of the skateboarders to discuss the proposed ban had been ignored.
On realising his mistake, he said: "I would like to apologise unreservedly for any offence caused by my email."
Robson Blyth, 19, of the city's Mythic Skateboarding team, said he has not seen people skateboarding on the war memorial, near St Peter Mancroft Church, for at least 12 months.
"If we do see anybody on the war memorial my group try and stop them as it gives us all a bad image," he said.
"I think if you're going to ban it do it just by the memorial and the steps outside City Hall - but carry on letting us skate here as the church have never had a problem with it."
More than 5,000 people have signed a petition protesting against the ban.
A vote on the introduction of the by-law will be taken by a full city council meeting on 25 November.