Connor Barrett party murder: Two teenagers guilty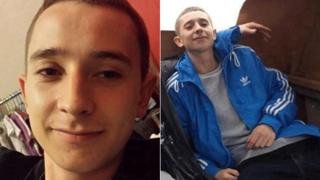 Two teenagers have been found guilty of murdering a man at a 21st birthday party they had gatecrashed.
Connor Barrett, 20, was stabbed to death while trying to protect a friend at the private party in Hemsby, Norfolk, at 23:20 BST on 10 May.
Jesse Quaye, 18, of Crittens Road, Great Yarmouth, and a 15-year-old boy were convicted after a trial at Norwich Crown Court.
Quaye, the boy and others had seen details of the event on social media.
Look East reporter Dawn Gerber, who was in court, said there were gasps and cheers from the public gallery as the verdicts were returned.
Quaye and the boy, who cannot be named due to his age, were among a group that travelled to Hemsby by bus.
Prosecutor Amjad Malik said Quaye was heard to say that if anyone messed with him "they would get it".
'Sent shockwaves'
Mr Barrett was stabbed multiple times after confronting Quaye and the boy, who had both been seen with knives, in an attempt to defend a friend.
Det Ch Insp Paul Durham, of Norfolk police, said: "Connor was a popular lad who could not have foreseen the end result when he went to protect one of his friends on what was meant to be a happy occasion.
"This is a genuinely appalling way to resolve any situation and has resulted in a young man's life being cut short with untold pain and grief for his family and friends.
"His murder sent shockwaves through the small and close-knit community."
Anthony McLean, 41, from Drifters Way, Great Yarmouth, was convicted of assisting an offender. He drove Quaye to London after the stabbing after picking him up from the murder scene.
The 15-year-old pleaded guilty to possession of a knife and Quaye was found guilty of having an offensive weapon.