Ched Evans: BBC Radio Norfolk's Nick Conrad makes rape remark apology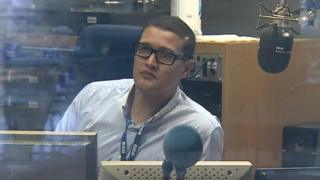 A BBC radio presenter has made an on-air apology for remarks he made about rape during a debate on Monday about convicted rapist Ched Evans.
BBC Radio Norfolk host Nick Conrad had said women should "keep their knickers on" during a phone-in over the future of the ex Sheffield United footballer.
In the apology, he called the comments "ill-judged" and apologised "to anybody who was offended".
He said he had made it clear "women and victims were in no way to blame".
During Monday's show, Conrad, 29, said he thought women "need to be more aware of a man's sexual desire" and "it's very difficult for many men to say no when they are whipped up into a bit of a storm".
"If you don't wish to give out the wrong signals it's best probably to keep your knickers on and not get into bed with him," he said.
There were no complaints to the BBC on the day of the live broadcast, but by Thursday morning his remarks had provoked 81, the BBC Press Office said.
In an apology at the beginning of Thursday's programme, Conrad said the comments had been "part of a wide-ranging discussion" where he invited listeners to "talk openly and frankly" about the Evans case.
"I made it clear on several occasions that rape is an abhorrent and inexcusable crime and that women and victims were in no way to blame," he said.
"Some of my comments in one section of the discussion were ill-judged and were offensive to some.
"I apologise to anybody who was offended by what I said."
Evans, a former Wales international striker, was jailed in April 2012 for raping a 19-year-old woman in a hotel room the previous year. He was freed last month after serving half of a five-year jail sentence.
The question of whether he should be allowed to play professional football again for Sheffield United, his employer at the time he was convicted, or any other club, has been hotly debated since his release.