Lord Nelson love child letter sells for almost £24,000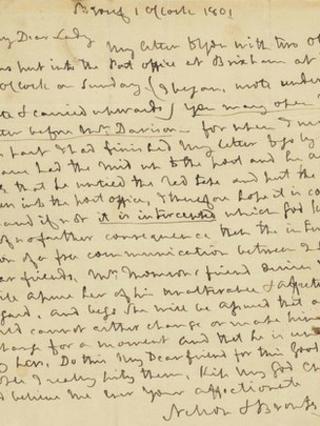 A letter from Lord Nelson to Lady Emma Hamilton, sent just a fortnight after the birth of a "secret" love child, has fetched nearly £24,000 at auction.
Christie's in London had expected it to sell for between £10,000 and £15,000.
The missive tells of his fears for their clandestine affair and the interception of their correspondence.
In the letter, dated 12 February 1801, Nelson explains a midshipman posted a previous letter at Brixham but fears it may have been interfered with.
Their child, Horatia, was born on 29 January 1801, just a fortnight before Nelson wrote the 200-word letter.
The couple pretended Horatia was the daughter of a fictitious Portsmouth Admiral named Thomson and they were the child's godparents.
Nelson, the national hero
Born in Norfolk on 29 September 1758, Horatio Nelson was a naval captain by 21, known throughout Europe by 39 and dead at 47
He won three of the most decisive naval victories in British history at the Nile (1798), Copenhagen (1801) and Trafalgar (1805)
Nelson was seriously wounded four times and famously killed by a French sniper aboard HMS Victory during the Battle of Trafalgar
As he was dying, he asked his devoted Flag Captain Thomas Hardy to kiss him - a fact Victorian historians tried to suppress
Nelson was blind in his right eye but, contrary to popular myth, did not wear an eye patch. He also lost his right arm as a result of battle
Source: BBC History
In the letter Nelson writes of himself in code: "Mrs Thomson's friend desires you will assure her of his unalterable and affectionate regard and begs she will be assured that all the world cannot either change or make him wish to change for a moment and that he is unalterably hers."
He ends by asking Lady Hamilton: "Kiss my God child."
Auctioneers Christie's said: "The letter betrays some of the insecurities that beset the couple, including the constant fear that one of their letters - full of thinly-veiled affection with neither party well disguised by their use of the 'Thomson' alias - would fall into strange hands.
"Based in England during the final negotiations of the Peace of Amiens, Nelson could frequently visit Emma and play some part in the life of his illegitimate daughter, Horatia."
A spokesman for Christie's said the letter was sold by a private collector who wanted to remain anonymous.