Fish rescued from silted ponds at Norfolk nature reserve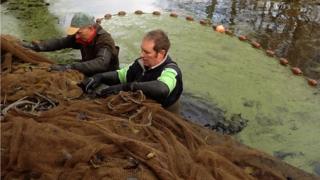 Thousands of fish have been rescued from ponds being filled up with rotting leaves and silt in Norfolk.
Volunteers and specialist fish catchers carried out the project at the Willows Nature Reserve in Downham Market.
Decaying leaves were depriving the water of vital oxygen, threatening several species of fish.
The Environment Agency advised anglers and the borough council working to save more than 4,000 fish and restore the ponds to a healthier condition.
Kevin Allen, former chairman of King's Lynn Angling Association and a member of the Friends of the Willows group, said most of the fish had been caught by nets across the ponds.
They have been taken to new lakes to allow the ponds to be dredged, cleaned out and deepened before they are returned.