Norfolk Police tweet misjudged, force admits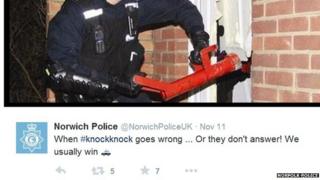 A police force said it might have "misjudged" a Twitter post showing officers smashing down a door after facing criticism that it was violent.
The picture tweeted from the Norwich Police account showed an officer breaking down a door and followed an update on an operation.
It sparked a conversation between an officer and a member of the public.
A Norfolk Police spokeswoman said the post provided a "learning opportunity".
Two users congratulated police on the photo, which prompted an officer to say that the action was "part and parcel of our role, it doesn't happen to innocent people, you know".
'Massive egos'
However, another Twitter user questioned their actions and claimed he had been wrongly arrested in the past when the police had used heavy-handed tactics as he did not want to let officers into his house.
"Violence is the last refuge of the ignorant comes to mind," the user said.
"You guys have massive egos and love to escalate aggression."
In an attempt to bring the Twitter exchange to a close, the officer told them to contact a superintendent to discuss their concerns.
Norfolk Police said the use of Twitter by frontline staff has proved a popular way of communicating with the community and lets people directly contact officers.
"This is often conducted in an informal, conversational way," she said.
"However, social media is an ever evolving channel of communication, often with learning opportunities for our staff, and on this occasion may have been misjudged."