Thieves return to strip church roof in Norfolk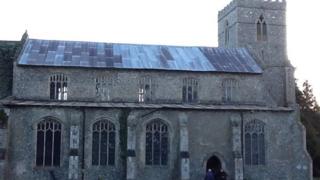 Thousands of pounds worth of lead has been stolen from a Norfolk church, just hours after a service for Remembrance Sunday service finished.
A gang stole £30,000 of lead from the roof of St Lawrence's, Harpley, near King's Lynn, on Sunday night, using a vehicle which damaged gravestones.
It is the second time a gang has struck at the church. In September thieves stole £20,000 of lead.
The rural dean of Lynn James Nash said the news would hit the community hard.
He said the north aisle and south aisle roofs have been stripped, adding: "They have taken enough lead to cover a tennis court."