Delia statue and self-driving cars ideas for Norwich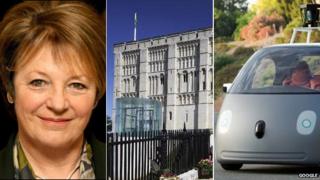 Self-driving cars and a statue of Delia Smith could be seen on the streets of Norwich in the near future.
The suggestions are part of Norwich Society's vision for the city for the next 20 years.
Water fountains and a tram service between the city centre and Rackheath have also been proposed.
Paul Burrell, from the charity, said: "We want to get people talking and stimulate their imagination and aspiration."
The statue of Smith, a chef and joint majority shareholder of Norwich City Football Club, could be added to Norwich's Haymarket.
The Norwich Society report says the existing sculptures have "no local relevance" and "fail to resonate with most of the public".
The automated vehicles, meanwhile, could be a way of transporting people with "walking difficulties" around the city.
"We're not expecting everybody to welcome everything in this document, some people will think bits of it are completely potty," Mr Burrell said.
"But if we can get people talking and thinking, stimulating ideas, then we will have achieved something."
The document, which also calls for a "Boris bikes" cycling scheme and a new concert venue, will be given to the city council and business leaders.