Norwich giant inflatable spider startles Halloween visitors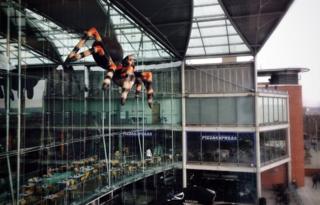 People with a fear of spiders have been spooked by a huge inflatable tarantula dangling from a city centre building.
The 6m-wide (20ft) model spider has been suspended above the entrance to The Forum, home to Norwich's main library, for Halloween.
The inflatable has attracted a string of comments on social networks, with someone posting they were too scared to walk under it.
A spokeswoman for The Forum said it had not received any complaints.
The spider, made by Suffolk's Airtechs Inflatables, cost £450 for Norwich City Council to hire as part of its Halloween celebrations and events.
A spokeswoman for Norwich City Council said: "We decided to hire an inflatable spider to act as a giant illustration of all the fantastic stuff we've been doing this week as part of our fun-packed Spooky City programme to mark Halloween.
"While we obviously didn't set out to cause anxiety to anyone who doesn't like spiders, we're pleased it's become such a talking point."
The inflatable will remain outside the building until Sunday.
Jayne Evans, from The Forum Trust, said: "It has not been an issue, it's just a bit of Halloween fun.
"Quite clearly it is a comic spider and it has been overwhelmingly popular.
"It acts as a signal to come into The Forum and have some fun as we have lots of events going on."