Acle head-on crash victim dies in hospital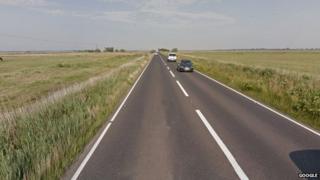 A woman has died following a head-on car crash near Acle, in Norfolk.
The front seat passenger of a Ford Puma, thought to be in her 50s, was taken to the Norfolk and Norwich University Hospital, where she died.
The Puma and a Skoda Fabia collided on the A47 and ended up in water-filled ditches after the crash, which happened at about 19:15 GMT on Wednesday.
Norfolk Police said the drivers were taken to the James Paget University Hospital.
The road was closed for about five hours while the scene was investigated.
Police have called for witnesses to come forward.