Tidal surge kills thousands of fish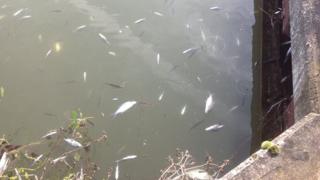 Thousands of fish have been killed in the Norfolk and Suffolk Broads after high storm tides pushed saltwater into the freshwater river system.
About 20,000 died at Acle Dyke on the River Bure, with "another few thousand" affected on the River Yare and River Chet, the Environment Agency said.
Despite the "horrendous mortalities" a barrier at Potter Heigham provided a "freshwater safe haven" from the tides.
About 250,000 fish have now moved up the River Chet to take refuge.
Steve Lane, from the Environment Agency, said: "Apart from the fact the fish stocks are an important part of the eco-system in its own right... anglers rely on those stocks.
"It's a hugely important part of the fabric of the tourism industry here bringing in something like £88m to £100m annually to the local economy - so we need to be looking at where the fish are getting caught out by the saltwater... and looking at measures to prevent some of these horrendous mortalities."
Mr Lane said: "The problem we have is the change in conditions from fresh to salt water is very rapid and once the fish sense the water has become too salty it's often too late for them to escape."
Sonar surveys taken on Thursday have revealed the numbers of fish behind the Potter Heigham barrier are estimated in excess of 500,000.
The Environment Agency said the salinity of the water has now almost returned to normal.