Allergic beekeeper Steven Adderson died from sting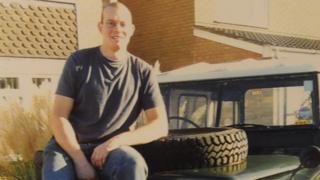 A father has told how he urged his beekeeper son to give up his hobby before he died from the insect's sting.
Steven Adderson, 39, from Downham Market, went into anaphylactic shock after being stung while dealing with a neighbour's rogue bee swarm.
His father Graham, 68, said his son knew he was allergic to bee stings after two previous allergic reactions.
"He was 6ft 9in, a gentle giant, and he wouldn't hurt a fly, but they killed him," said Mr Adderson.
Collapsed
The electronics engineer failed to put on his protective boots as he was running late for work and he was stung on the ankle.
Mr Adderson said his son walked back home to get his EpiPen adrenaline shot but collapsed while on the phone to the emergency services on 17 June.
"The ambulance got there within six minutes and they emptied the equivalent of 15 EpiPens into him but they had no effect," he said.
"It all happened quickly and he didn't suffer but we will never get over his death as a family."
Mr Adderson said staff at Queen Elizabeth Hospital in King's Lynn fought for 90 minutes to save his son.
'Big risk'
He had asked Steven to give up bee-keeping when he was hospitalised after he was stung for the first time.
"When I found out I urged him to give it up because being allergic there was a big risk involved but he said, 'No, as long as I'm careful and do everything properly I shall be all right'.
"If someone says wasps, you think 'keep away', but bees people don't seem to be too worried about.
"It should be brought to light to make people aware how dangerous it can be if they get stung."