Marsham rave-goers damage scientific site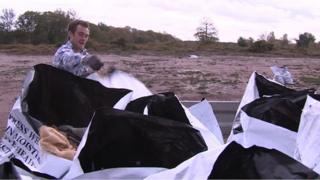 A site of special scientific interest has suffered "widespread damage" after 850 people attended an unlicensed rave in Norfolk, police said.
The rave took place at Botany Bay Farm near Marsham on Saturday night.
Norfolk Police said protected flora and fauna were trampled on and loud music distressed nearby animals.
Ch Supt Bob Scully said: "Those attending this event showed a complete disregard for the environmental value of the land."
Cawston and Marsham Heaths have a locally-scarce type of heather and the area is of "considerable" ornithological interest, Broadland District Council said.
Norfolk Police said 12 large amplifiers, a generator and other equipment were seized and a number of tickets were given to the 200 vehicles at the rave.
Mr Scully said: "The damage left by these selfish individuals is widespread.
"During the course of the night, officers monitored the incident and did what was possible in the circumstances to maintain safety and limit damage to surrounding vegetation and crops."