Great Yarmouth owl Whisper search diverted by chip shop decoy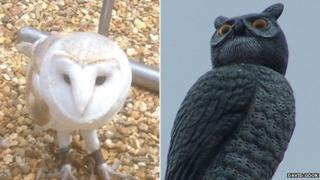 A week-long search for a missing tame barn owl has been hindered by false sightings, including one of a plastic model on top of a fish and chip shop.
Whisper flew off on 14 October after being mobbed by seagulls during a falconry demonstration in Gorleston.
Owner David Gook has followed up sightings of an owl in sand dunes, in back gardens and a plastic owl perched on a chip shop roof in Great Yarmouth.
He said time was running out for Whisper, who cannot fend for himself.
The three-year-old owl, which Mr Gook raised and trained from a chick, was spooked by the gulls at Cliff Park Ormiston Academy.
He flew off towards a nearby housing estate and has not been seen since.
Mr Gook, who runs Hawking Experience in Acle, initially said Whisper was unlikely to survive for more than five days and began a search, helped by local falconry clubs.
'Starving to death'
"Three days after he went missing a man said he'd seen a light owl in sand dunes at Yarmouth, about six miles away, so I spent ages there, but found nothing," Mr Gook said.
"Then someone called and said her son had photographed an owl sitting on a fish and chip shop late at night, so I went there, too."
When Mr Gook arrived at Rogers Fish and Chips on St Peters Road in Great Yarmouth, he realised the owl was not Whisper.
"It's a plastic owl on top of the shop. It doesn't bear the slightest likeness to mine," he said.
Owner Roger Millward said he put four plastic owls on the roof to deter seagulls who were pecking the insulation from his solar panels.
"When that failed I put a flying raptor on a pole, and then they got the message," he said.
Mr Gook said he feared he "may not see Whisper again".
"I'm gutted to think Whisper might be starving to death," he said.
The 30cm (12in) bird, which weighs 255g (9oz) has never learned to hunt.