King's Lynn premature baby death: Parents consider legal action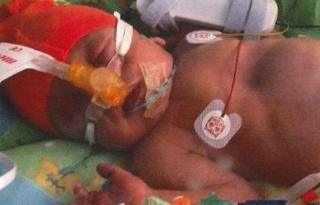 Parents of a premature baby, who died after six days, are considering legal action following a coroner's conclusion his condition was misdiagnosed.
Doctors initially thought Jackson Sellers-Mitchell had a bowel infection at a Norfolk hospital, but it was later found his drip was leaking internally.
Norwich's coroner concluded he died "due to a rare but recognised risk of necessary medical treatment".
The family's solicitor said civil proceedings were an option.
The hearing was told Jackson was born at the Queen Elizabeth Hospital, King's Lynn on 4 May after a 31-week pregnancy.
His condition was complicated as he had struggled to breathe from birth and because he was unable to tolerate expressed breast milk, was put on the nutritional drip.
The inquest heard he then developed abdominal swelling, which doctors at the Queen Elizabeth believed may have been caused by a bowel infection, for which he received treatment.
However, when he failed to respond to the treatment, Jackson was transferred to the Norfolk & Norwich Hospital.
Doctors there found there was no evidence of infection, but that the intravenous tube itself had been leaking.
It was also clear, they said, that Jackson, who died on 10 May, had suffered brain damage as a result of a lack of oxygen.
Coroner Jacqueline Lake concluded the cause of death as the escape of the drip fluid into the body cavity.
Recording a narrative verdict, she said: "There was a misdiagnosis, but I'm satisfied that this was an acceptable initial diagnosis to make."
She said she would write a report to highlight the risks of the drip procedure.
Sharon Allison, solicitor for Jackson's parents Zoe and Ricky Mitchell, said: "They were encouraged to hear a number of initiatives have arisen from Jackson's death, which might possibly spare another family the immeasurable pain they continue to suffer.
"Potential civil proceedings could be an option, but it's something for the family to consider over the next few days."