Council 'irresponsible' over historic King's Lynn chapel site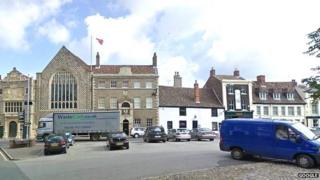 An eminent archaeologist has called a council "irresponsible" in the way it allowed work to start on a major historical site in King's Lynn.
King's Lynn Council was undertaking resurfacing work when it rediscovered the 14th Century Charnel on the Saturday Market Place site.
Prof Warwick Rodwell, a consultant to Westminster Abbey, said a proper archaeological study was needed.
The council denied the claim and said the correct procedures were followed.
Prof Rodwell, who was asked to look at the site by residents, said in his report that a "machine-dug service trench broke through and destroyed medieval moulded masonry at the west end of the chapel".
He said he was concerned that "no archaeological watching brief was arranged" before the start of work.
"There can be no excuse for such irresponsible action: the site is at the very heart of medieval King's Lynn and its archaeological importance has never been in doubt," he said.
A spokeswoman for King's Lynn and West Norfolk Council said: "We must reassure people that the correct procedures were followed and that, unfortunately, Prof Rodwell appears to have been misinformed on this matter.
"When starting the project we were aware of the likelihood of finding remains. Trial cores did not reveal any significant remains and it was believed that the remains were at least 700mm beneath the surface."
She said works were not expected to go deeper than 500mm but when excavation work started it was soon discovered that the remains were closer to the surface than anticipated.
"We did not have an archaeologist on site carrying out a watching brief as this was not recommended to us at the time and all parties involved felt that the appropriate measures had been taken.
"Far from showing a disregard for these remains, the borough council's intention has always been to do the right thing," she added.