Thunderstorms light up Norfolk sky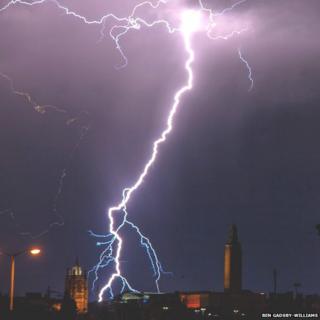 A series of thunderstorms lit up the sky over Norfolk on Saturday.
Fire crews were called to two properties which were struck by lightning.
The first was in East Winch at about 17:20 BST and involved a building on Church Lane. The second was in Mundesley just before 19:00 BST.
No-one was reported hurt in either incident. A crew was also called to Rougham to extinguish a tree fire following a lightning strike.
Vicki Dack, who photographed the lightning over St Peter Mancroft church in Norwich, said it was a "beautiful storm to watch".