Sir Michael Wilshaw says Norfolk pupils 'unlucky'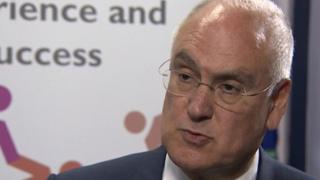 Children are unlucky to go to school in Norfolk, the head of education watchdog Ofsted has said.
Sir Michael Wilshaw, chief inspector of schools, gave a speech at a head teachers' conference in Norwich.
He said the county's pupils have been let down by "poor" standards and "too much mediocrity".
Keith Wright, from the Norfolk branch of the National Association of Head Teachers, accepted some of what Sir Michael told school leaders was "fair".
Last year, Ofsted said Norfolk County Council had a "big part to play" in failings at many county schools after it inspected 28 in a week and discovered "considerable concern".
Postcode lottery
Sir Michael told BBC Radio Norfolk: "A child who happens to be in an area that is doing well because they have good heads and good teachers is a lucky child.
"A child in a postcode... where there is poor leadership and poor teaching, those children do badly.
"Unfortunately children in Norfolk are... in an area where standards are not high enough because expectations are not high enough."
Mr Wright, branch president of the National Association of Head Teachers, said: "I feel a lot of the heads felt that some of what he had to say was fair.
"There is a lot of work that we need to do in Norfolk to raise standards of children's achievement.
"I don't believe children are unlucky here, we've got fantastic resources."
Gordon Boyd, assistant director of education strategy and commissioning at the county council, said: "I was very pleased that he was clear in his challenge to us and also pleased that he recognised that over the last 18 months we have been working in a very different way."