Heinz to axe 200 jobs at Norfolk Aunt Bessie's potato factory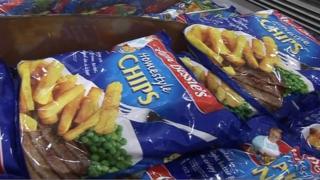 Heinz is set to cut 200 jobs when it shuts a food production factory in Norfolk.
Workers at the Westwick site in North Walsham, which produces Aunt Bessie's frozen potato products, were told at lunchtime, the BBC understands.
The proposed closure comes as Heinz's license to manufacture the Aunt Bessie's products will not be renewed when it comes to an end in April 2015.
The company said it was "disappointed" to make the announcement.
It said the closure proposal, which is subject to a 45-day consultation process, was made "after thoroughly exploring extensive alternatives and options".
A factory employee who did not wish to be named told the BBC she was "reeling" at the news, but said that Heinz had been "a fantastic employer".
"I've got other family members who work there so that's going to be the hardest thing for me - how can I help support them when they are in the same situation as me - we all need jobs and to look after our families. At the moment I'm reeling a bit.
"People have been there their whole lives, I can't image how they are feeling. "
North Norfolk MP Norman Lamb said: "This will be a time of great concern and uncertainty.
"I want to meet both with senior managers and with staff urgently to find out if there is anything I can do to help.
"Heinz must explore fully any option to protect jobs at the factory, and I am determined to make sure they do this."