Norfolk County Council redundancies cost £12.7m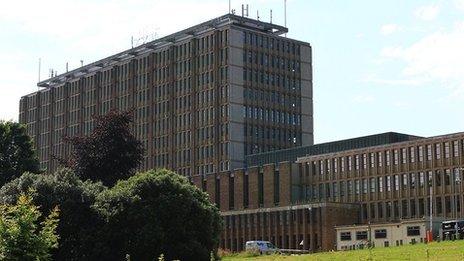 A council has made more than 1,100 workers redundant at a cost of £12.7m over the past five years, according to figures obtained by the BBC.
Norfolk County Council, which has been hit by funding cuts, said the redundancies had saved £26.3m a year.
An average of about £11,550 has been paid to each worker made redundant since 2009, according to the figures.
Jonathan Dunning, from public sector union Unison, said it was "an enormous amount of money to pay out".
"Local authorities across the country are being forced to do these kinds of things by central government," he said.
"The real loss is the skills and the experience of the workers who are being made redundant."
The figures were gained through a Freedom of Information Act request.
Councils across the country have been affected by cuts in grants from central government and the downturn in the economy.
Anne Gibson, director of strategy and resources, said: "It is a lot of money to spend on redundancy but it is a one-off sum of money; it doesn't repeat.
"A lot of the savings achieved in the last few years have been through efficiency savings - that's savings on procurement, savings on more automated processes, making better use of technology - so that does make us more efficient.
"We aim to do that to be more effective and to maintain good services."
Ms Gibson said the council had tried to avoid making compulsory redundancies and had redeployed 370 staff over the past three years.
The council budget for 2014-15 was set at £308m.
Related Internet Links
The BBC is not responsible for the content of external sites.