Gamekeeper Allen Lambert guilty of Stody Estate bird poisoning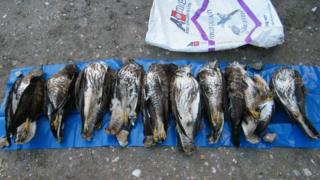 A gamekeeper has been convicted of "the worst case of bird of prey poisoning" recorded in England, the RSPB said.
Allen Lambert, 65, who worked on the Stody Estate, near Holt in Norfolk was found guilty of deliberately killing ten buzzards and a sparrowhawk and possession of pesticides and items used to prepare poison baits.
He earlier pleaded guilty to five other charges including illegal use of pesticides.
Lambert will be sentenced in November.
The hearing at Norwich Magistrates' Court followed an investigation at the game shooting estate in April 2013 by RSPB officers.
They found the remains of several birds of prey in woodland and a feed bag containing nine dead buzzards in Lambert's house.
Banned pesticide
Analysis of the remains found 11 birds had been poisoned.
Police found containers of the pesticide in Lambert's car and storeroom, as well as a syringe and needles.
The court heard he wanted to protect pheasants he was rearing on the estate.
Lambert claimed a dog walker with a grudge against him had planted the dead birds, but the judge said his theory was "implausible".
Head of RSPB investigations Bob Elliot said the discovery of the carcasses at Lambert's home was "truly dreadful".
"This is the worst case of bird of prey poisoning we are aware of in England, and one of the worst ever recorded in the UK," he said.