University of East Anglia researchers chart rapid spread of tree bumblebee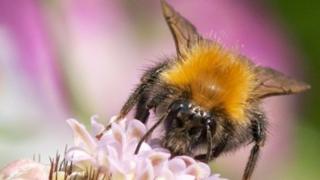 A bumblebee that is comfortable living alongside humans is spreading rapidly in towns and villages across England.
Researchers from the University of East Anglia have studied colonies of tree bumblebees in south Norfolk.
The bees visited flowering trees, plants and even thistles in towns, villages and the countryside.
Researchers said the bees first appeared in England in 2001 and spread rapidly by foraging in places that existing species rejected or avoided.
'Different habitat'
The new study shows that tree bumblebees prefer habitats in built-up areas where humans live.
"These markedly different habitat and foraging preferences set this species apart from other common British bumblebee species," researchers said.
"This could explain how tree bumblebees have managed to colonise much of the UK while many other bumblebee species have been declining."
Observations revealed tree bumblebees were more likely to be found in built-up areas with woodland nearby.