Runner dies during Round Norfolk Relay race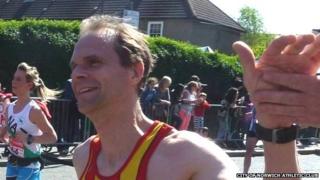 A runner died while taking part in a 197-mile relay race around Norfolk, his running club has confirmed.
Darryl Davis, 46, from Eaton, collapsed during the Round Norfolk Relay at Cley-next-the-Sea on Saturday, the City of Norwich Athletic Club said.
Spokesman Richard Polley said Mr Davis, who was running for the masters team, was within sight of the finish of his 11-mile stage from Wells when he fell.
The club's "thoughts and prayers" were with Mr Davis's family, he added.
The Round Norfolk Relay is dubbed the longest continuous multi-terrain running relay in the UK, covering 197 miles (317km) from King's Lynn to Great Yarmouth.
Runners from various teams compete over 17 stages and it is often nightfall before the race ends.
Mr Polley said: "He was attended immediately by local paramedics and two ambulance crews and also the air ambulance, but sadly he didn't make it and we're absolutely numb as a result.
"We decided to withdraw the three City of Norwich teams from the race immediately as a mark of respect.
"He was a very quiet and unassuming man. Certainly he didn't talk about the tremendous achievements he had both as a runner and as a triathlete and he's going to be sadly missed by us."
Mr Polley said Mr Davis had run various London marathons, including one on his birthday this year.