BTO organises Great Yarmouth Tesco pied wagtail rescue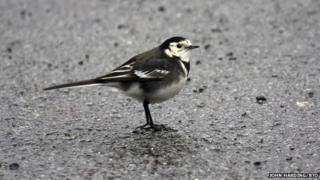 Bird ringing experts are to be brought in to capture a pied wagtail which has been on the loose in a Tesco shop in Norfolk for several weeks.
Plans to employ a marksman to shoot the pied wagtail at the Great Yarmouth store were put on hold after TV star Chris Packham tweeted his opposition.
The bird will be removed from the store and set free on 21 September.
The British Trust for Ornithology (BTO) believes it has a "very good chance" of success.
A Tesco spokesman said the pied wagtail had made the Great Yarmouth shop its home in recent weeks.
He said: "In spite of repeated efforts to free the bird including laying down traps, deploying nets and opening windows, we have been unsuccessful."
Natural England granted Tesco a licence to shoot the bird, which was due to happen on Sunday evening.
Mr Packham used his Twitter account to urge Tesco to get in touch with the BTO, which knows how to capture and release birds without harming them.
BTO ornithologist Paul Stancliffe said the company got in touch on Thursday.
He said: "We're trained bird ringers and we've a lot of experience in catching birds. I think there's a very good chance we'll be successful."
Between two and four bird ringers will go to the shop and put up one or more of the 60ft (18m) by 9ft (2.7m) mist tents.
They will be installed between the cafe and men's clothing, which are the bird's favourite haunts.
He said: "These are very, very fine mesh netting, which when strung between two poles are almost invisible and are used around the country on a daily basis to trap wild birds for ringing purposes."
Mr Stancliffe believes the bird has "found itself in the store and can't find its way out and has managed to find a food source".
The Tesco spokesman said: "Our goal is always to release any birds which have found their way into our stores, while ensuring we maintain our high standards of hygiene."