Work to save 'rare' wall paintings in Great Yarmouth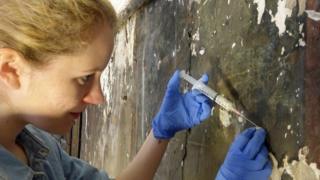 Experts are trying to save wall paintings that were found at a former Georgian townhouse in Norfolk.
The paintings, discovered recently on King Street, Great Yarmouth, feature a decorative marbling effect and are believed to be from the 17th Century.
Great Yarmouth Preservation Trust said it would spend three weeks stabilising and cleaning the artwork.
Conservator Phillipa McDonnell said: "It is very rare to find wall paintings from this period in this country."
She added: "It would have been common in Italy and you would expect it in higher status buildings, like palaces, government buildings and churches.
"But it's unusual to find it in a domestic setting."
The artwork would have originally covered the entire room of the property, which was most recently used as a jewellers.
The trust said an original Georgian staircase and wallpaper dating back to 1730 would also be conserved.
Bernard Williamson, the chairman of the trust and borough council cabinet member for regeneration, said: "The secular wall paintings are a rare survival and a reminder of when Great Yarmouth was a wealthy, cosmopolitan trading port in the late 17th and 18th Centuries.
"Trends change, of course, and it seems these paintings only survived because the room was altered dramatically in the 1830s, and they were sealed up under the panelling."
It is hoped the wall paintings will eventually go on display to the public.