Hunstanton honours US airmen flood rescuers over 1953 floods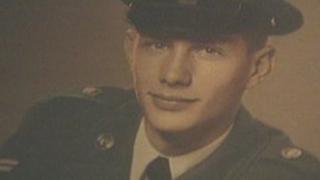 A US Air Force unit is to be granted the freedom of a Norfolk town in recognition of the lives it helped to save during the 1953 floods.
The 67th Special Operations Squadron (SOS), now based at RAF Mildenhall in Suffolk, will be granted the Freedom of Hunstanton on 4 October.
SOS member Reis Leming was credited with saving 27 people.
His widow, Kathy, and son, Michael will receive the tribute to Mr Leming, who died in 2012 aged 81.
Hunstanton Mayor Carol Bower, said: "The courage displayed by Reis Leming and his fellow servicemen from the 67th Squadron will live long in the memory of the people of Hunstanton.
"Granting the squadron Freedom of Hunstanton is one way in which we can demonstrate our gratitude."
The tribute will bring back memories of the evening of 31 January 1953 when a fierce storm combined with a tidal surge to breach defences and cut off part of the town.
Many families were stranded in wooden pre-fabricated homes at the mercy of the rising water.
That night 31 people, including 16 American citizens, lost their lives.
Volunteer rescuers from the US Air Force 67th Air Rescue Squadron stationed at nearby RAF Sculthorpe (now known as the 67th Special Operations Squadron), came to the aid of the stranded people.
Mr Leming, then 22 and unable to swim, headed out into the icy waters, towing a rubber life raft. He became the first non-Briton to be awarded the George Medal for bravery in peacetime.
Lt Col John Peak, squadron commander, said: "The 67th Special Operations Squadron's special relationship with Hunstanton was forged on the tragic night of 31 January 1953, when one of our own, Reis Leming risked his life to rescue 27 people, including children.
"Our special bond has endured for over 60 years and it is a privilege to be associated with the town."