WW2 Arctic Convoy veteran's family in medal plea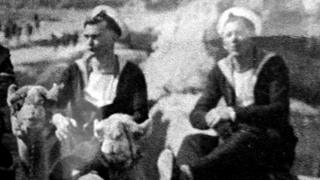 A World War Two veteran has been denied a service medal he is entitled to because of poor Ministry of Defence recording keeping, his family claims.
Bill Ashby, 90, of Norwich, was a Royal Navy signalman and served in the gruelling Arctic Convoys.
His daughter Lesley said it should qualify him for the Arctic Star medal.
She says the MoD, which has not directly commented on the case, told her signalmen records are not accurate enough to show he went.
The Arctic Star medal was introduced in February last year after a long campaign by convoy veterans, who argued their service in freezing and perilous conditions deserved a dedicated award.
Mr Ashby worked on several vessels during the campaign, making sure convoys stayed together on trips to Russia.
'So brave'
Dr Lesley Ashby said she, together with her brother and sister, were campaigning on her "modest" father's behalf for his service to be recognised.
Winston Churchill called the Arctic Convoys the "worst journey in the world".
"If they wish for these people, who were so brave, to have a specific recognition then he deserves that," said Dr Ashby.
"I'd hoped the Ministry of Defence (MoD) would be able to find a way through it but it's been four or five months since the last email."
---
'The worst journey in the world'
The Arctic Convoys were made up of vessels which travelled from Britain to northern Russia to resupply the Soviet Union
Under constant threat of attack by German U-boats and aircraft, the craft also dealt with severe cold, storms and ice floes
The Arctic route claimed 104 merchant and 16 military vessels.
Source: National Maritime Museum
---
Dr Ashby, who lives near her father, said she had suggested to the MoD someone could talk to him to verify his account.
"I think what has driven me to persist has been a sense of the disconnect between what is publicly said about the value of veterans... and the reality of what happens when you try to get recognition," she said.
"I would like to see my father awarded his medal as soon as possible because at the age he is, although he is doing really well, one doesn't know how long he has."
The MoD was asked about Mr Ashby's case, but has not directly commented.
In a statement, it said it had received "several thousand applications from veterans and their families" and a dedicated team was looking at applications "as a matter of urgency".