Norfolk Race Bank wind farm dispute meeting to take place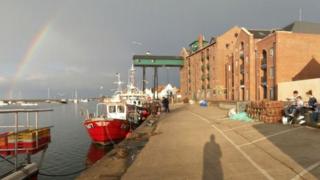 Fishing boat owners in Norfolk, who have been banned from entering part of the North Sea for more than a fortnight by a wind farm operator, said they are "happy" to meet with the company again.
It follows a stalemate over compensation for the crab and lobster boats which resulted in DONG Energy obtaining a High Court injunction.
North Norfolk MP Norman Lamb is trying to arrange a date for the meeting.
The 24 boats have yet to remove their pots from the Race Bank area.
Last year the Danish company DONG Energy Power (UK) bought the rights to develop turbines at the site about 15 miles (25km) off the coast.
Negotiations had been taking place with fishermen from Wells-next-the-Sea and King's Lynn over compensation to stop them entering Race Bank while surveys and other work was carried out.
'Real disparity'
After failing to reach an agreement, DONG won what it called a "last resort" injunction banning boats from entering the area between 15 August and 22 October.
Fishermen had said the level of compensation of up to £220 per boat per day would barely pay for their fuel and they had yet to remove up to 4,000 lobster and crab pots from the sea.
Mr Lamb, a Liberal Democrat, said: "There is a real disparity between what I am hearing from different sides. It is incredibly important that we are able to resolve it in a reasonable way to prevent any further distress for local fishermen."
Nicky King, chairman of the Wells & District Inshore Fishermen's Association, said: "We're happy to meet, but it needs to be with someone from DONG with enough authority.
"We want to be treated with respect and we want to be adequately compensated for any income we lose as a result of the wind farm project."
A DONG spokesperson said: "While we are still trying to reach an agreement, we also have to progress with our offshore geophysical surveys on schedule to comply with the terms of our agreement for lease with The Crown Estate, who control access to the seabed."