The Norfolk Hospice in jacket wedding ring plea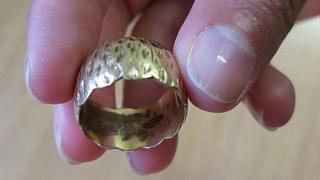 A charity wants to reunite a wedding ring with its owner after it was found in the pocket of a donated jacket.
Volunteers at The Norfolk Hospice made the discovery earlier this month at its distribution centre, but have yet to find out whose ring it is.
"Because it wasn't discovered until it reached the centre, it is impossible to pinpoint the shop it came from," said commercial director Mark Shea.
"I'm sure the loss of this ring will be causing some anxiety."
The hospice runs charity shops in King's Lynn, Snettisham, Hunstanton, Downham Market, Wisbech, Swaffham, Dereham, Holt and Fakenham.
It hopes to vacate its aging hospice at the Tapping House in Snettisham and move its residents to a new £4m building in Hillington later this year.