Norfolk and Norwich University Hospital tackles parking 'chaos'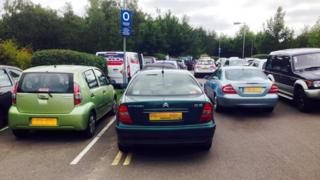 New signs and increased patrols have been introduced to ease pressure on a hospital car park regularly left in gridlocked "chaos".
Cars are regularly parked on double yellow lines, kerbs and verges by drivers trying to park at the Norfolk and Norwich Hospital.
Responding to concerns raised by Health Minister Norman Lamb, the hospital admitted parking could "be difficult".
But it said it had no plans to introduce fixed penalty notices.
Mr Lamb, also North Norfolk MP, wrote to hospital chief executive Anna Dugdale saying the current car parking arrangements were "causing difficulties for those visiting patients".
"Some drivers might be flouting parking restrictions," he wrote. "At times more cars are entering certain car parks than capacity allows for.
"Clearly, it is really important that those visiting relatives do not endure additional anxiety at what is often already a very stressful time."
The Norfolk and Norwich University Hospital (NNUH), which sees up to a million patients a year, has 850 visitor parking spaces on site plus 310 next to the hospital.
Visitors are charged after 30 minutes, but no "penalty" is issued by the hospital for those parking outside the marked bays or on double yellow lines.
A hospital spokeswoman said it is "the busiest" in East Anglia and security teams were carrying out "extra patrols during peak times to direct visitors to the nearest available space".
She added visitors are requested "not park on double yellow lines" and "security teams issue warning notices to drivers who have parked unsafely".
Healthwatch Norfolk, a watchdog for health and social care, said hospital parking was an issue that needed to be addressed.