Laptop thief Clive Malone left man brain damaged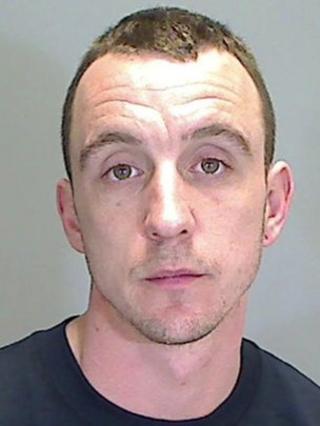 A man who attacked two brothers after a birthday party in Norfolk and left one brain damaged and blind has been found guilty of attempted murder.
Clive Malone, 27, from Great Yarmouth, returned to the party to steal a laptop owned by Russell Lambert, 55, and attacked him and his brother Patrick, 62, Norwich Crown Court heard.
Since the attack on 1 February this year, Russell Lambert has been left paralysed and blind in hospital.
Malone will be sentenced on 7 October.
Malone was seen getting into a minor argument over the laptop and later went back to the party to find the two brothers asleep.
His intention was to steal the laptop and he assaulted the brothers who were both left with injuries to their heads and bodies.
Blood on clothes
An ambulance was called when they were found the following day.
Patrick, known as Tommy, had a gash to the top of his head, heavy bruising and cuts to his hand.
Russell remains in hospital with significant brain damage, paralysis and loss of sight.
Malone tried to sell the laptop while continuing with his normal life, the court heard.
He told police he did not recall attacking them despite blood from Russell being found on his clothes.
Malone admitted in court having an iron bar which was used during the assault.
After the court case, the Lambert family said in a statement: "Although this man (Malone) is going to prison his punishment is nothing which Russ has to bear.
"He has ruined Russ's life completely and what he has done has had a devastating effect on the whole family.
"Russ was always the joker and the soul of the party."