West Norfolk 'mire'-loving orchid habitat's £249k grant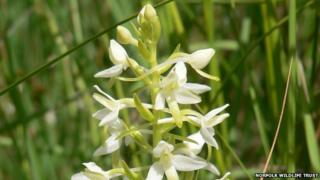 A common in Norfolk that is home to rare dragonflies, water voles and orchids is to be restored using a grant of £249,000.
West Norfolk reserves manager Bill Boyd said that the build-up of "100 years of air pollution" will be removed from Roydon Common's mire habitat.
The reserve is the only Norfolk habitat of the bog orchid.
The grant is from Wren's Biodiversity Action Fund, which disperses money generated by landfill tax.
Mr Boyd likened the work to "restoring a valuable old painting by removing a newer one from its surface".
"We will be peeling back the build-up of decades of uniform species-poor overgrowth, much of which is probably the result of 100 years of air pollution, in order to reveal the original mire habitat," he said.
This involves the Norfolk Wildlife Trust measuring the pH (acid and alkaline) levels and depth of the peat to determine which areas will be mown "to restore the community type which should be there".
Roydon Common is the largest surviving open heath in west Norfolk and also includes a mire or bog habitat.
The Norfolk Wildlife Trust said Roydon Common is home to 13 "nationally scarce invertebrate species", while the water vole population in Britain had declined by 90%.