Norfolk schools tip-off claims: Ofsted to investigate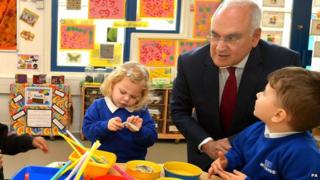 Ofsted is to investigate claims three schools in Norfolk had advance warning of inspections.
It follows a report in The Observer that academy schools in Norwich, Thetford and Great Yarmouth were given more than the usual half-day notice.
Ofsted said it would review the three specific inspections and, if necessary, take the "strongest possible action".
Sir Michael Wilshaw, head of Ofsted, said: "I am determined to protect our integrity in this area."
The three schools are Ormiston Victory Academy in Norwich, Thetford Academy and Great Yarmouth Primary Academy and the claims relate to inspections since 2013.
'No hesitation'
The schools all have links to Dame Rachel de Souza, who was principal at the Norwich school and is the current chief executive of the Inspiration Trust, which runs the academies in Thetford and Great Yarmouth.
Labour's education spokesman Tristram Hunt had already called for openness from Ofsted and the Department of Education.
Ofsted said Sir Robin Bosher, its director of quality and training, would to carry out a review of the circumstances of the specific inspections and also the wider handling of the sharing of information about Ofsted's inspection schedules.
Sir Michael said: "An article carried a number of allegations from unnamed sources concerning the leaking of inspection dates to head teachers and academy trusts.
"Ofsted's reputation for inspecting without fear or favour is absolutely central to all that we do.
"If any evidence comes to light that proves anyone within Ofsted or our contractors has shared information inappropriately, I will have no hesitation in taking the strongest possible action."
The Ormiston Academies Trust has said it has never been given advance warning of Ofsted inspections beyond the usual half day.
It said: "If the former principal received any prior notification, this was not something that was communicated with the trust leadership."
Earlier this week, the Inspiration Trust said Dame Rachel was on holiday.