Norwich City v Watford: Pair charged with racist behaviour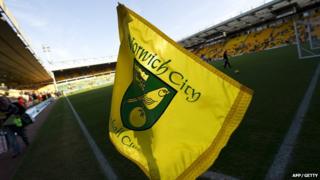 Two football fans have been charged with racism offences following the Norwich City v Watford game at Carrow Road on Saturday.
Bronson Sims, 18, from Longwick, Buckinghamshire, and David Bonner, 46, from Wealdstone in London, were arrested in the away fans' section during Norwich's 3-0 victory.
They have been charged with racially aggravated threatening behaviour.
They are due to appear before Norwich Magistrates on 4 September.
Norwich City gave temporary bans to two Canaries fans pending an inquiry into alleged racist chanting during the match at Wolverhampton Wanderers on the opening day of the season.