Holiday Park swimming pool chemical leak injures children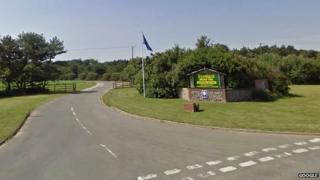 Three children were taken to hospital when a chemical "vapour" was released into a holiday camp swimming pool.
Residual gas in pipes found its way into the pool at Woodland Holiday Park in Trimingham, Norfolk.
Paramedic Lee Fox said patients were "coughing, and complaining of sore throats and stomach aches".
Park manager Andrew Hird said the pool was evacuated and a further three people also sought hospital treatment following Monday's leak.
'Emergency procedures'
He said: "We had a small incident where residual vapour that was left in the pipes was released into the children's pool.
"The pool was perfectly safe at all times, but we chose to evacuate the area as part of our emergency operating procedures."
"We assessed everyone to find out the severity of their conditions and decided that three children needed to be taken to the Norfolk and Norwich Hospital.
"A family of three were also treated and decided to make their own way to hospital."
Mr Hird said the children have been discharged from hospital "to my knowledge" and the pool has been re-opened.