Christopher Andrews jailed for lying in court for sex offender friend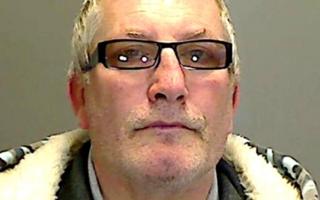 A man who lied in court to try to protect a paedophile on trial has been jailed for 16 months.
Christopher Andrews, 57, of Shipley's House, Haven Bridge, Great Yarmouth, gave false evidence during the case of his friend and boss Martin Thomas.
Thomas was given 12 years in jail after being found guilty of sex offences and perverting the course of justice.
"This offence strikes at the very heart of justice," said recorder Peter Wallis at Norwich Crown Court.
He added: "It might have led to an incorrect verdict being given by the jury."
'False alibi'
Andrews falsely claimed a victim had contacted him, suggesting her evidence was made up.
Police said he also gave them three false statements which "contradicted" one another.
He was arrested as he left the witness box and charged with perjury in March.
Det Con Tristan Coull, of Norfolk police's child abuse investigation unit, said: "This investigation related to a serious case, involving an extremely dangerous individual who was found guilty of multiple offences of sexual assault against two children.
"Christopher Andrews essentially attempted to provide the offender with a false alibi and further attempted to discredit one of the victims, which was also proven to be false."