Cambria and Albion reunited on Norwich River Yare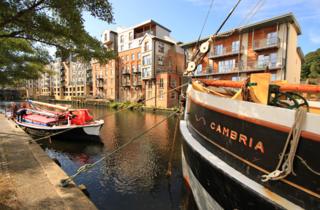 A historic sailing barge has become the first fully-rigged vessel to navigate waterways into Norwich since the city's river trade ended in the 1960s.
The Thames Barge Cambria, built in 1906, sailed up the East Coast from the Thames and was then towed into the city along the river from Great Yarmouth.
She had to drop her 100ft (30m) masts to negotiate the A47 bypass flyover.
Organisers said they hope the barge's visit will "re-establish Norwich's almost forgotten links with the sea".
The Cambria will be joined on Norwich's riverside on Wednesday by the wherry Albion, built in 1898.
The Cambria
The Cambria was principally engaged in the coastal trade between the River Thames, the Trent and Humber
She was a regular trader to Norwich in the 1940s and '50s
The barge carried cargo such as cattle cake fertiliser, grain and mustard seed to both Colman's and Read's mills
After falling into disrepair she was restored to fully working order about four years ago thanks to a Heritage Lottery Fund of almost £1m
Source: The Broads Authority
Mark Wakelin, the Broads Authority's former chief navigation officer, said it took the Cambria 36 hours to sail round the east coast from London and then nearly a week to make her way along the River Yare.
"There are seven movable bridges in the river between Great Yarmouth and Norwich which had to be opened for us," he said.
"Since the last ships came to Norwich for trading purposes, somebody has built the southern bypass which doesn't open so we had to lay everything flat.
"The bypass is very useful, unless you have a sailing barge trying to get under it."
"She's not like a wherry with a counterbalanced mast," said Mr Wakelin. "She's a sea-going vessel with very heavy rigging so the whole lot has to be lowered to the deck and wound up again by hand."
Each year Cambria is chartered by Sea-Change, a charity which provides youth training and development.
The charity decided to re-establish Norwich's links with the sea by bringing the barge up the River Yare into the city.