Mother of sisters who died in crash makes plea to drivers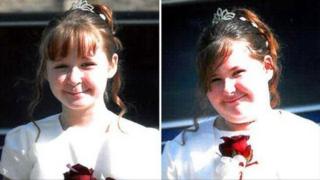 The mother of two girls who died when a poorly maintained car they were in overturned has urged drivers to look after their vehicles.
Tamzin, 10, and Jessica Portor, 7, from Sutton Bridge, Lincolnshire, were on their way to the cinema when the car crashed in Walsoken, Norfolk in 2012.
An inquest in King's Lynn heard the Ford Focus had very low tyre treads.
The girls' mother Lorraine Mason said: "I don't want anybody to go through what I'm going through every day."
Norfolk coroner Jacqueline Lake recorded a conclusion that the girls died of multiple injuries when the car swerved suddenly and overturned into a ditch, on 27 December.
The inquest heard the car had uneven tyre pressures, a slow puncture and Jessica may not have been wearing a seatbelt.
"I just want to make people aware that if you're driving a vehicle, you're responsible for it and everybody in it," Ms Mason said after the inquest.
"Don't take somebody out without a seatbelt on, do check your tyres and if the tread or pressure is low, don't drive it."
Marie Easter, the partner of the girls' father, was driving the car and admitted two charges of causing death by careless driving earlier this year.
She was given a 15-month jail term, suspended for two years.
Easter told the inquest she had been forced to swerve to avoid an oncoming vehicle on the wrong side of the road.
Asked about the condition of the car, Easter said it had been repaired on 19 December and she had been told it was safe to drive.
However, mechanics told the hearing that although the car had been booked in for repair, the appointment was missed.