Diss horse 'extreme neglect': Mandro Jones jailed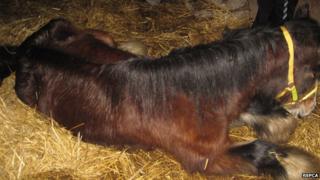 A man has been jailed after RSPCA inspectors found two pregnant horses in an "appalling condition" in Norfolk.
One of the horses and one of the foals died after the emaciated mares were removed from an address in Lower Rose Lane, Diss in February.
Mandro Jones, of Shelfhanger Lane, Diss, admitted animal welfare offences when he appeared at Norwich Magistrates' Court.
Jones was jailed for eight weeks and banned from keeping horse for 10 years.
The RSPCA said the mares were found in a barn, without food and water, surrounded by rubbish including broken glass and rusty tins and they had been licking moisture from the ground outside. They also had lice and worms.
Liver damage
The horses were placed in the care of the Redwings Horse Sanctuary.
One of the mares, called Marilyn, was put down due to having irreversible liver damage caused by exposure to ragwort, but her foal, called Norma Jean, survived.
The other mare, called Baby, survived, but her foal did not.
Roxane Kirton, Redwings welfare vet, said: "The lack of regard for providing even the horses' basic needs, including food and water, was heartbreaking."
RSPCA inspector Jason Finch said: "I have never seen an animal so thirsty that they had to lick moisture from damp concrete - it was shocking.
"Baby was so thin and exhausted that she was struggling to move around and actually lay down while we were there because she was so weak.
"I am very pleased that this strong sentence sends out a clear message that this kind of extreme neglect will not be tolerated."