Justin Hindry guilty of Aylsham showroom arson fraud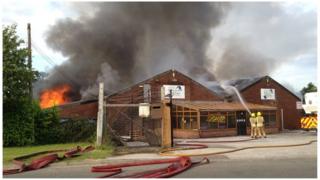 A former showroom owner has been found guilty of setting fire to his family business as part of an insurance scam.
The Aylsham Bathroom and Kitchen Centre was seriously damaged by fire in June 2012.
Justin Hindry, of Manor Farm Close, in Drayton, was found guilty of insurance fraud and arson by a jury at Norwich Crown Court earlier.
The 41-year-old will be sentenced at a later date. He was remanded in custody for reports on him to be prepared.
Det Sgt Darren Reade, of Norfolk police, said: "Hindry thought to con emergency services, detectives and his insurance company by setting fire to his struggling business to make money out of the claim.
"He also deceived his own staff, many of whom had supported him throughout the investigation."
Hindry denied two further counts of arson and fraud relating to a fire at Haven Seashore Holiday Park at Yarmouth in November 2011. He was cleared of both charges.