Norfolk village WW1 memorial destroyed in car crash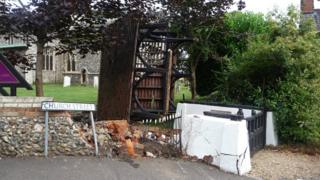 A church memorial lychgate to the soldiers of World War One has been "destroyed" after it was hit by a car.
The vehicle crashed into the gate at St Nicholas Church in Ashill, Norfolk, causing "devastation" as the gate was knocked from its foundations.
The Rev Jane Atkins said it was "amazing" the stone plaque inside was still intact as "nothing else has been saved - it's utterly destroyed."
Police said two men have been arrested in connection with the crash.
The crash, involving a blue Ford Focus, happened in the early hours of Friday morning.
Ms Atkins said: "The car must have flew through the air after it left the road as it seems to have hit the wooden structure, taking it from its base. It's like the whole thing has been lifted and dropped on the floor.
"The gate's had a few near misses on that bend, but I can't believe it happened this weekend at a time when we're looking to commemorate the war in its centenary year - of all the weeks and years for it to happen, it's quite ironic."