Norfolk mattress scam: Georgina Dean sentenced for conning older people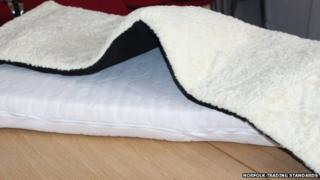 A Norfolk conwoman has been ordered to pay back thousands of pounds after selling mattresses to older people, claiming they could help with medical conditions such as arthritis.
Georgina Dean, 39, of Wymondham, sold massage pads and mattresses for up to £795, but then substituted them for cheaper inferior versions.
She was found guilty at Norwich Crown Court of running a fraudulent business.
She was given a suspended jail sentence and ordered to return £4,000.
The court heard that Dean obtained a list of people with medical conditions, which also included diabetes and Parkinson's disease, and targeted them.
'Manipulated' victims
Norfolk Trading Standards said she would gain victims' trust by claiming to be connected to their GP surgery and she would then visit them in their homes wearing a medical uniform.
The jury was told she charged between £220 and £795 for the mattresses, but then delivered inferior products which she imported for as little as £30.
Dean was given a nine-month suspended jail sentence, ordered to carry out 300 hours of community work and pay back a total of just over £4,000 to the victims of the fraud.
Shaun Norris, trading standards manager, said: "This sentence is the result of the horrible way she manipulated her victims, taking advantage of their health worries and fleecing them out of hundreds of pounds for mattresses and massage pads that could never cure their ailments in the way she told them they would."