Norfolk and Norwich University Hospital car park chaos 'a battle'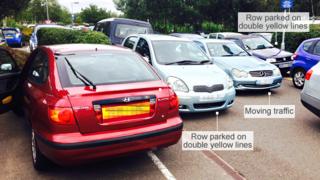 A hospital car park has become a gridlocked "chaos" due to drivers leaving vehicles on double yellow lines and verges, the BBC has been told.
Health Minister Norman Lamb said he would ask Norfolk and Norwich University Hospital chief executive Anna Dugdale for an explanation.
The hospital said it recognised there was a problem but "had no immediate plans" for a "penalty" crackdown.
Healthwatch Norfolk said the issue needed to be addressed.
The Norfolk and Norwich University Hospital (NNUH), which sees up to a million patients a year, has 850 visitor parking spaces on site plus 310 adjacent to the hospital.
Visitors are charged once they spend more than 30 minutes in a car park, but no "penalty" is issued by the hospital for those parking outside the marked bays or on double yellow lines.
Mel Bennett, from north Norfolk, had been visiting the hospital daily for a week. She said the on-site parking was "just chaos".
"Because nobody is enforcing anything, or stopping people coming into a car park that's already full, people are just parking where they like," she said.
"It's ridiculous and the hospital should be doing something about it."
One hospital employee told the BBC that visitor parking was a "like a battle between the public and the hospital".
A spokeswoman for the NNUH said security teams patrolled the car park at busy times.
"If cars are parked on double yellow lines, our security teams also issue warning notices with information on other parking options," she said.
"We have updated information on our website advising visitors to use the new public car park if the nearest car park is full."
Healthwatch Norfolk, a watchdog for health and social care, said hospital parking was regularly brought to their attention.
"Most often are concerns around the cost, but clearly parking also needs to be managed so that it doesn't have a negative impact on patients or their loved ones and visitors," said chief executive Alex Stewart.
"Some of that is down to the hospitals but as members of the public we should remember that parking inconsiderately is going to have an effect on someone else."
Mr Lamb, who is also the North Norfolk MP, said visiting an ill relative or friend in hospital could be an "incredibly stressful experience".
"It is really important that hospitals do everything they can to help visitors park safely and conveniently," he said.
"I hope that the Norfolk and Norwich is doing everything it can to tackle the sort of problem parking we have seen there."