Norfolk A47 road deaths: A 'puzzle' despite new searches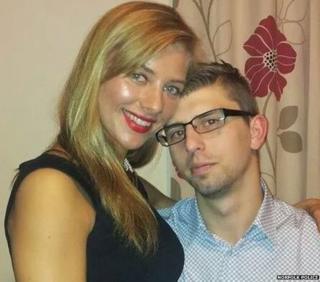 More items have been found on the A47 by police investigating the death of a Lithuanian couple, but officers say they are still "puzzled" by it.
Tadas Zaleskas, 26, and Nonita Karajevaite, 24, were both killed on the A47 near Terrington St John, Norfolk, on Sunday.
Ms Karajevaite's death is being treated as suspicious following allegations she was forcibly pushed into the traffic.
Norfolk Police said a search of the road on Thursday recovered more items.
Det Ch Insp Paul Durham said: "A search took place on Thursday afternoon and evening. Some items were recovered. We are currently assessing them in relation to their relevance to the investigation."
He said all the personal items found so far just "feeds the puzzle".
"It is not clear at this stage what has happened," he said.
He appealed to members of the Lithuanian community who knew the couple to get in contact with police.
"Any information might help to solve this mystery. It is all the more shocking as they were clearly an intelligent and vibrant couple," said Det Ch Insp Durham.
On Thursday police released footage, taken at Worzals Farm Shop in Walpole Highway, shortly before they were killed.
Both died when they were hit by a silver Kia car as they walked along the eastbound carriageway near Terrington St John at 14:15 BST.
At 13:20 they had both separately spoken to an assistant at Worzals Farm Shop and asked them to call the police, but they left soon afterwards with no explanation. Police were not called.
The couple, originally from Lithuania, were engaged and lived in nearby Emneth.
Anyone with information is asked to call Norfolk Police.